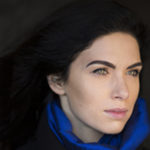 Costanza Savarese is a multidisciplinary artist: solo classical guitarist, vocal performer endowed with a 5 octave vocal range, video artist and costume and theatrical make-up designer. She debuted as a soloist at the Concertgebouw in Amsterdam, Presidential Concert Hall in Ankara, Palau des Artes Reina Sofia accompanied by the "Soloists of the National Academy of Santa Cecilia", Teatro Alighieri in Ravenna, Maggio Musicale Fiorentino, Teatro di Roma etc. She has been awarded two "Los Angeles Global Music Awards" and the "Federico Fellini 2018 Prize" for innovation within the performing arts field.
She starred as leading actress and guitarist in the videoclip "Fuoco" selected by a Jury chaired by Ettore Scola (Academy Awards Nominee Director) to be presented within the "Roma Short Movie Festival".
The magazine Classic Rock featured her guitar cover of Dee within the "Best Tracks of the week".
Her performances are broadcasted by RAI-National Italian Radio and Television, Mediaset, RSI-Italian Switzerland Radio, Classic FM, Radio National de Espana, Radio Nacional Venezolana, Vatican State Radio.
She formed the GlobeDuo together with Andrea Oliva (First Solo Flute at the Orchestra dell'Accademia Nazionale di Santa Cecilia).
Her music studies have been held under the guidance of Bruno Battisti D'Amario, Nazzareno Carusi, Massimo Lonardi, Frèderic Zigante e Fabio Nieder.
She has deepened the study of traditional and extreme vocals followed by artistic vocologist Professor Eleonora Bruni ("Demetrio Stratos" Prize, 1996).
Professor Franco Fussi invited her to perform as the opening act for "LA VOCE ARTISTICA 2017" at Teatro Alighieri (directed by Maestro Riccardo Muti) in Ravenna under the patronage of Teatro Comunale- Bologna, Alma Mater Studiorum University and Maggio Musicale Fiorentino. Together with Professor Fussi and Professor Bruni she is working under the patronage of LA VOCE ARTISTICA on a performance-based academic research related to Luciano Berio's Folk Songs. The first outcomes have been already presented during a concert/conference at the Conservatorio Statale di Musica Pollini (Padua) and the Teatro di Roma.
She currently holds the position of Guitar Professor at AIMART – MUSIC AND THEATRE INTERNATIONAL ACADEMY directed by Maestro Edda Silvestri (Venice "Leone d'Argento" Prize).
Her video-art creations have been part of the Modern Panic IX Exhibition London 2018, SESI Gallery (São Paulo), FILE – Electronic Language International Festival 2019 and 2020, "The WRONG Biennale 2020", ArtBox Gallery (Zurich and Barcelona), "Lift-Off Sessions Pinewood Studios and Raleigh Studios" (London – Hollywood), "Cool Tour Street 2020" (Bologna), MirabanArt Ltd (UK). She writes on RESTROSPECTIVE (an International Four-Monthly Arts Magazine directed by Glauco della Sciucca, soon to be released by Hoffman Barney & Foscari Ltd.) and is part of the international collective HYBRID WAVE.