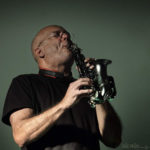 Alípio Carvalho Neto was born in Floresta, Sertão of Pernambuco, Brazil.
Alípio initiated his musical studies first at home with his father, then at the Music School of Brasília (EMB). Based in Rapolano Terme (Siena), he collaborates with the Music Studies program at the Siena Art Institute. Alípio received in 2014 his Ph.D. with highest honors in Music History, Sciences and Techniques (Storia, Scienze e Tecniche della Musica) from the University of Rome 2 Tor Vergata with his thesis La Musica Libera di Giancarlo Schiaffini (The Free Music of Giancarlo Schiaffini). In his dissertation he analyzes several unexplored topics related to the relationship between composition and improvisation. He examined the question of freedom in music from the perspective of Hannah Arendt's theory of free action. In 2017, Alípio published with Giancarlo Schiaffini Immaginare la musica (Milano: Auditorium), where he curated the analysis of Schiaffini's compositions.
He also has a Master Degree in Literary Theory (Federal University of Pernambuco – UFPE / University of Évora). He moved in 1997 to Portugal where he was awarded scholarships by the Cultural Institute of Macao and the Ministry of Culture of Brazil (Bolsa Virtuose) to research in the areas of music and literature at the University of Évora, with a special focus on the Chinese and the Arabic poetics.
He released numerous albums that were highly acclaimed by international audiences and critics. Alípio is an active performer, composer, improviser, poet, educator, and scholar dedicated to Interdisciplinary Music Studies. He collaborates with various intermedia and transdisciplinary projects, including contemporary and electronic music ensembles, silent film music, dance, theatre, and visual artists.
Alípio pays special attention to the relationship among musicology-ethnomusicology, literature, philosophy of improvisation, science, and aesthetics of music. His poems were published by Editions Jean-Fabien G. Phinera (Paris), and in many poetry journals and literary magazines.
He has collaborated, performed and recorded with several artists, orchestras and ensembles such as:
Ted Moore
Armando Lôbo
Moisés de Araújo Alves
Pedro Euzébio
Herb Robertson
Ken Filiano
Marco Bonini
Michael T. A. Thompson
Clarence Becton
Raymond MacDonald
Gerry Rossi
Tia DeNora
Errico De Fabritiis
The Orkester Brez Meja / Orchestra Senza Confini / Orchestra Without Borders
Steve Beresford
Zlatko Kaučič
Thomas Rohrer
Gal Furlan
Giovanni Maier
Francesco Ivone
Urban Kusar
Maggie Nicols
Ian Birse
Matjaž Bajc
Žiga Ipavec
Brian Groder
Giorgio Pacorig
Stefano Giust
Emanuele Parrini
Veryan Weston
Corey Mwamba
Pierluigi Foschi
Silvia Bolognesi
Luiz Moretto
Charlie Kohlhase
Bill Lowe
John Russel
Marilyn Crispell
Curt Newton
Daniel Rosenthal
Sei Miguel
George Lewis
Orlando Legname
Torbjörn Zetterberg
Joakim Rolandson
Johannes Krieger
Carlos Zíngaro
Scott Fields
Patrick Brennan
Jean-Marc Charmier
Ben Stapp
Greg Burk
Felix Wagner
Angelo Olivieri
Carlos Barretto
Adam Lane
Francesco Lo Cascio
Michael Attias
Roberto Raciti
Thelmo Cristovam
Gregg Moore
Lesli Dalaba
Marcio Silva
Michael Moore
Eugenio Colombo
Giancarlo Schiaffini
Alvin Curran
Val Jeanty
Roberto Bellatalla
Sandro Satta
Alex Maguire
Yoram Rosilio
Fred Lyra
Hugo Medeiros
Luciano Emerson
Bruno Vitorino
Marco Quaresimin
Bruno Zoia
Ezio Peccheneda
Ernesto Rodrigues
Dennis González
Richard Nunns
Elio Martusciello
Iato Orchestra
Mike Cooper
Masa Kamaguchi
Space Ensemble
VGO Variable Geometry Orchestra
Federico Ughi
João Lobo
Ermanno Baron
Fabrizio Spera
Stefano Cogolo
Sergio Armaroli
Marco Ariano
Mark Sanders
Ravish Momin
Zsolt Sárvári Kovács
Among others